Curbside Pickup
Cubi Bar Cafe is now offering curbside pickup. Please call 850-452-2643 to place your order.
Please see the map below for curbside pickup. Lunch is served Tuesday - Saturday 1100-1400.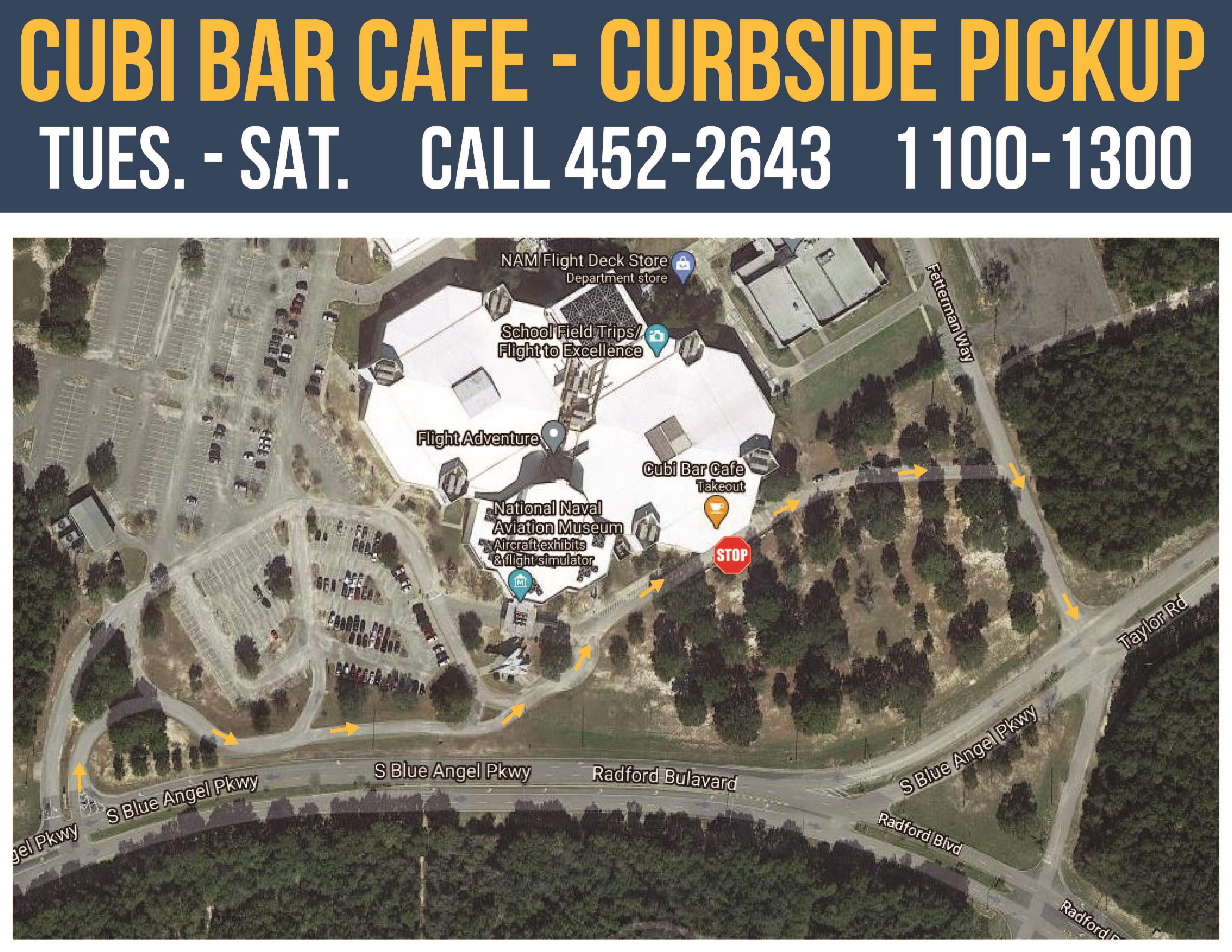 Opened in 1996, the Cubi Bar Café is not only a restaurant, but a popular Museum exhibit! The Cafe's decor and layout duplicates the bar area of the famous Cubi Point Officers' Club that was a major source of enjoyment for Navy and Marine Corps squadrons, ships and units as they passed into the Western Pacific. For nearly 40 years, the NAS Cubi Point Officers' Club, in the Republic of the Philippines, was a marvelous mix of American efficiency and Filipino hospitality. The club was especially famous for its Plaque Bar, where transiting squadrons retired old plaques and commissioned new ones to commemorate each WestPac tour. The tradition of placing plaques in the O' Club bar was started during the Vietnam Conflict and endured until the closing of the base in 1992.
The Cubi Bar Café is open daily and serves soups, salads, deli sandwiches and dessert. Our breads are baked fresh daily. Most menu items bear names that are a tribute to aviation, such as the Aviator Sandwich and the Chicken Pita Pilot. When the original officers' club was closed in 1992, the thousands of plaques that adorned the walls of the club as tokens of thanks were packed up and sent to the Museum to be placed as they were when the Cubi Club was closed. The legacy of this Cubi Bar brings back many memories to aviators whose squadron plaques decorate the walls.
Hours of Operation
Tuesday – Saturday
11 a.m. - 2 p.m.
Contact: 850.452.2643