Located onboard NAS Pensacola, the Youth Center hours are Monday through Friday from 5 AM to 7 PM. There are special hours for open recreation nights, please see attached schedule. The Youth Center is available for use by active duty military personnel, DoD civilian personnel, reservists on active duty or inactive duty for training, DoD contractors and active duty Coast Guard dependents ages 5 (kindergarten) to 18.
Programs include school-age child care (SAC), open recreation, instructional classes, and special events.
*Children may not exceed 12 hours of care per day.
School Age Care and Seasonal Camps
The Youth Center offers a nationally accredited School-Age Care program designed to give children a safe place to grow and learn before and after school. This program is open from 5 AM - 7 PM and provides transportation to Hellen Caro, Blue Angels, Myrtle Grove, Navy Point and Pleasant Grove Elementary schools and Jim Bailey Middle School. School Age Care fees are based on total family income pursuant to Navy regulations. Before and After School Care is available any time school is in session and is also available on early release and non-school days. Breakfast, lunch and snacks are provided to all children in concordance with USDA regulations. The Before and After School program provides a structured environment with weekly programming done by trained staff and participates in base wide special events and local community service projects.
In the weeks that school is not in session, the Youth Center offers a summer camp program, spring break camp and winter break camp. Children will participate in a variety of field trips and activities. This camp is a place where kids can really enjoy their time off.
Click here for more information about the NASP Youth Center before & after school program.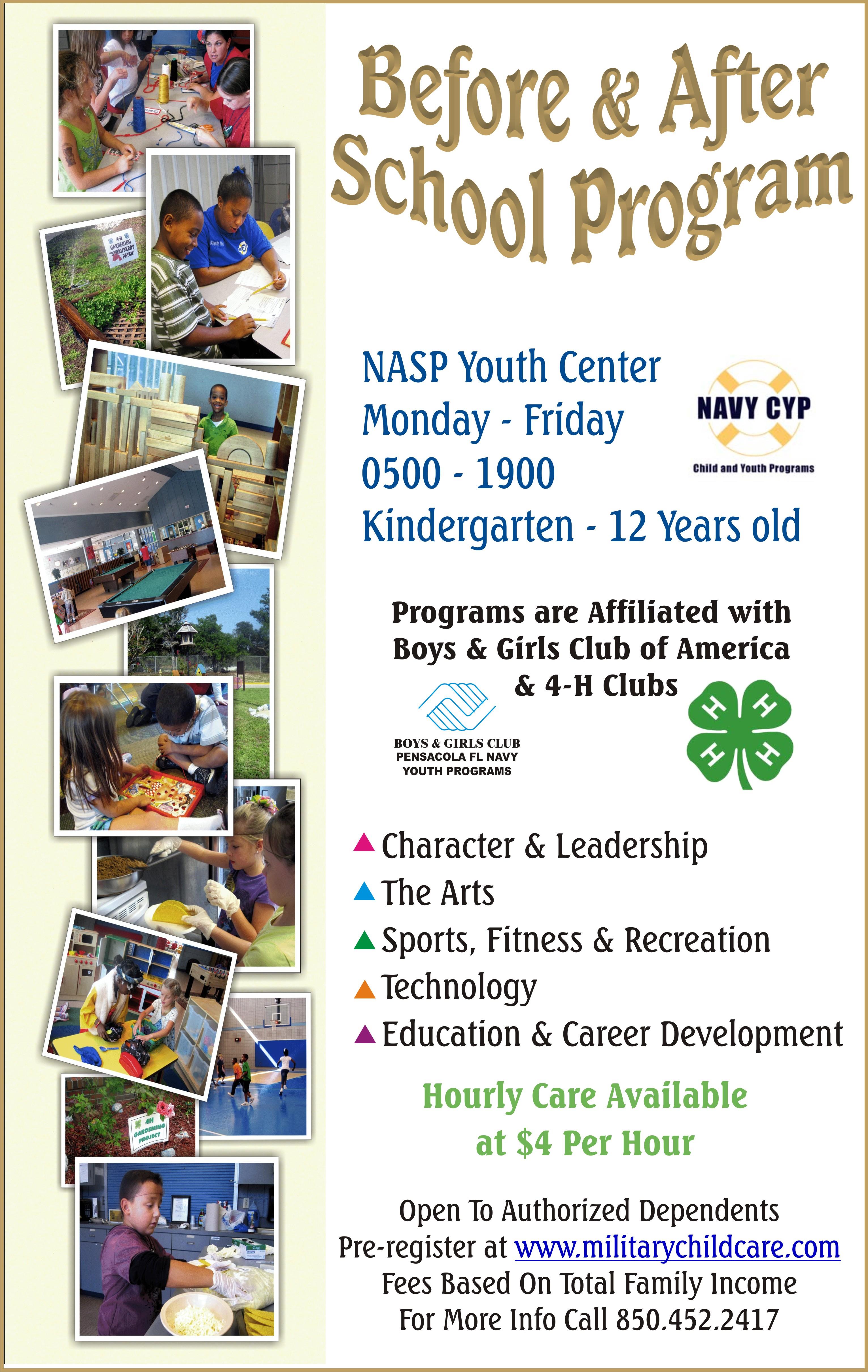 Boys and Girls Club and 4-H Programs
The Youth Center is a partner with Boys and Girls Club of America (BGCA) and 4-H offering quality curriculum and programming for Pensacola's youth. BGCA programs include Power Hour, an incentive based homework help program, Fine Arts and ImageMakers, programs that allows kids of all ages to express themselves through art/photography and BGCA clubs such as Torch Club, which is a community service and leadership program for pre-teens. In addition to BGCA curriculum, the Youth Center offers 4-H curriculum for youth development with the following essential elements: Belonging, Mastery, Independence and Generosity.
Open Recreation
Open Recreation is held each week at the Center for children ages 5 (Kindergarten) through 12.
Instructional Classes
The Youth Center currently offers Bushido Judo classes for ages 5-17.
Goal of Youth Sports
Our goal at the Navy Youth Sports experience is to teach the enjoyment of playing on a team as a character building activity without the pressure of a highly competitive program. We strive for participation, physical fitness, fair play, positive sportsmanship, and game skills. As members of the National Alliance for Youth Sports, we believe that every child regardless of their abilities should have an opportunity to positively benefit from meaningful participation.
Special Events
The Youth Center also hosts special events such as BGC Day for Kids and Worldwide Day of Play, Armed Forces Kids Run, Missoula Children's Theater, and Valentine's Day Dance.